In Memory
James Cockfield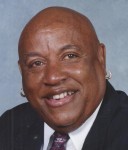 James Cockfield was born in Beaver Falls, PA. on September 16, 1941. Jimmy, as he was known, was one of three children born to the union of the late James (Dee) Cockfield and Gussie (Ward) Cockfield. He was the brother of Barbara Cockfield and Henry (Tojo) Cockfield.
James attended elementary and high school in Beaver Falls, Pa. After graduating from high school in 1961 he moved to Englewood, New Jersey where he lived with his grandmother Chloe' Hanna. He later relocated to Paterson, New Jersey, where he met and married the late Ruth Addison-Cockfield.
James was the father of three daughters, Tanya, Christine, and Tammy. James was employed in the construction field for many years and was also a bartender in Paterson,N.J. for several years. He enjoyed being around people and his many friends referred to him as "something else" because he was very blunt and always straight to the point. He said what he meant and meant what he said!
He loved so many people and they also loved him. He was also known as a "lover". James was known to woo the ladies with his dimples, smile, and his hazel eyes. He may have been short in height however, he had a vocabulary that left you knowing exactly what he was saying. He enjoyed watching television and one of his favorite shows was (The Young And The Restless). He also loved sports and he was an amazing cook who loved to cook.
He was a former member of the American Lodge 333 I.B.P.O.E. of W. in Paterson, New Jersey, and the Amazing Mets Social Club in Paterson.
He departed this life on Sunday, February 23, 2020, after a lengthy illness.
Jimmy is survived by his daughters, Tanya Carter of Paterson, NJ, Christine Cockfield of Maryland and Tammy (Cockfield) - Johnson of Burlington, New Jersey; one sister, Barbara Cockfield of Paterson, New Jersey; one brother, Henry (Tojo) Cockfield (Sherry) of Homestead, Florida; three grandchildren, Shannon Powers, Brandon James, and Justin Powers; a niece and nephews Jimmy Cockfield, Jason Cockfield, Jessica Ferguson, and Jake Cockfield; two aunts, Ida Kirkland (Woody Kirkland) and Sada Hanna; extended family Judith Sabajo and Shanaya Monticeuex; and a host of family members and friends.
To send flowers or a remembrance gift to the family of James Cockfield, please visit our Tribute Store.